World's Most Comprehensive Security Platform
Perimeter • Internal • Web

Fully-Automated Continuous Security & Performance
Monitoring and Mitigation


NetArmour now preemptively protects the confidentiality, integrity and availability of your information with the multi-layered, end-to-end solutions of the NetArmour Comprehensive Security Platform (NetArmour CSP).

NetArmour CSP delivers enterprise-wide information security that is tightly integrated with your existing IT operations to protect your organization ahead of the threat. NetArmour CSP streamlines your security processes, allowing you to protect more with less: fewer resources, fewer steps and lower costs.
Equivus' NetArmour offers the most robust suite of automated network security monitoring available. We monitor both your internal network and your externally exposed systems.

Our security protection is continuous, performed more frequently and at a fraction of the cost of lesser alternatives. Our comprehensive solution provides ongoing vulnerability protection, intrusion prevention, along with monitoring for hijacking, identity theft, secure transactions, defacements, wireless exposure and outsourced partner performance.

External Network Security Monitoring —
Lock down your Internet-facing network with Intelligent Vulnerability Monitoring. We automatically check your network when a new port is opened or a new vulnerability advisory is issued.

Internal Network Security Monitoring —
Monitor your internal network for vulnerabilities; intrusion prevention (Network IPS); email and web performance; and rogue LAN host and wireless network connections.
Web Site Security Monitoring —
Monitor your web site, email systems, and domain servers. Protect your site from hijacking, identity theft, defacement and performance threats
E-Transaction Security Monitoring —
Monitor the performance and security of your e-commerce through detailed measurement of every step in a transaction, including monitoring links to outsourced partners and secure connections.
Managed Network Perimeter Security —
Proactive defense at the network perimeter. Stop threats from breaching your perimeter by identifying and blocking sources.
CDP (Continuous Data Protection) and Managed Remote Backups —
Secure your Disaster Recovery needs with a CDP solution with managed offsite backups and recovery for your workstations and server.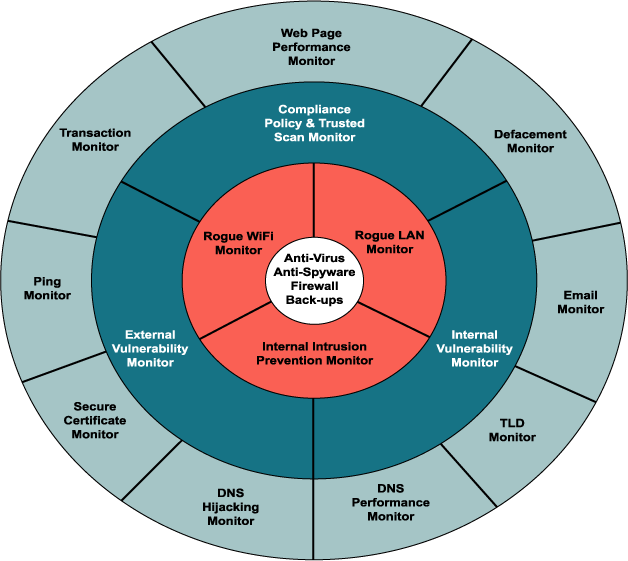 Components of the NetArmour Comprehensive Security Platform:

Intelligent Vulnerability Monitoring
Policy and Trusted Scans
Intrusion Prevention Services
Internet Presence and E-Commerce
Rogue WiFi Monitoring
Managed Perimeter Service
SSL VPN Connectivity
CDP and Managed Remote Backups





Get started today with NetArmour. Call
Toll-Free 866.378.4887


Want to Learn more? Click here to request additional information about the NetArmour Service

- Secure CDP (Continuous Data Protection) and Offsite Storage
Stay GLBA or HIPAA compliant with disaster recovery. Both the GLBA and HIPAA mandates requires those in the healthcare, Financial and Insurance industries to have an off-site backup of critical data and a contingency plan to access this data. By working with Equivus a medical practice, provider or medical information chain participant, CPA, Banks, Financial Planners, and Insurance agencies can meet this requirement to become compliant . Equivus provides support in specific areas of compliance including:

Continuous Data Protection
Off-site Data Backup
Contingency Planning
Disaster Recovery
Emergency Operations
Privacy

Equivus provide best of breed Continuous Data Protection and off-site storage solutions for customer needs to meet compliance and best practice disaster recovery.

The NetArmour Service is backed by professionally trained security experts and a 100% satisfaction guarantee.
Need More Info? Call Us:
U.S./Canada: 1.866.378.4887
Local: +1.847.956.3322