In today's environment, businesses need a competitive advantage. Workers need to stay on top of business-critical documents while traveling – or simply away from the desktop computers. Mobile delivery can provide the edge. Mobile delivery allows employees to conduct business anywhere, at anytime, using virtually any device. Turn Internet enabled mobile phones, 2-way pagers, wireless enabled Palms or PocketPC devices into a true extension of the corporate desktop.
What Can Be Accessed?
Access and interact with important information and existing applications from the mobile device of your choice- with no learning curve, no custom development and no expensive hardware. Retrieve and control messages, data and documents stored on the corporate network. Then deliver selected information to the destination you choose. Email, fax documents, ERP, CRM, calendars and more can all be accessed using mobile delivery.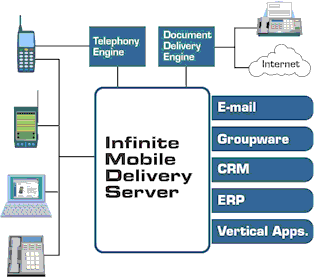 Benefits
Boost Mobile Productivity – Giving mobile enterprise workers a way to remotely manage business-critical faxes and email attachments make them more productive. They are able to check, retrieve and forward business-critical documents throughout the day via fax number or email address.
Improve Customer Satisfaction – Anytime, anywhere access to faxes and email means customers do not have to wait. Mobile delivery enables mobile workers with a Web-enabled phone or PDA to respond immediately to urgent customer documents sent via fax or email.
Keep Costs Down – Mobile delivery leverages investments in existing company infrastructures. Existing mobile devices and service providers can be used as long as the devices are Web-enabled and the service provider offers Web-enabled data services.
Keep Important Data Secure – The mobile server is placed behind the corporate firewall to ensure tat access to your important data is kept secure. To further protect confidential data, no information is stored on Web-enabled mobile devices. Also, access is controlled via a User ID and Password login.
Getting Started
Equivus Consulting Group will help develop strategies and plans for extending applications to mobile devices and users by identify your business requirements based on three crucial factors:
Degree of mobility
Information immediacy
Ease of use
Equivus Consulting Group has partnered with Captaris to deliver the Infinite line of products. Captaris is the market leader for unified communications and mobile business solutions. The Infinite family of products provides mobile and Internet solutions for email, groupware, and enterprise information and applications that are accessible form any Web-enabled device.

Further information

To discuss your particular requirements, or for further information on Equivus products and services, please feel welcome to call us on 866.378.4887. Alternatively please email info@Equivus.com.